When I arrived at the site on the day the footings were to be poured, I found this guy with the pump truck already there. He was not happy. Seems he had a hard time getting this beast down our "road" and bottomed out his back end (ha). He didn't think he could get out. Next we had to get the super heavy concrete truck in there as well. It looked scary, but went off without a hitch. They were even able to get out but did have to take a good run at it though.
Never thought I'd find wet concrete such a beautiful sight. Wasn't so beautiful sprayed over my glasses from the concrete vibrator. It's not what you think.
See what I did here. With the sign & the view. Future brochure material?
And here. Showing off my concrete encrusted work boots. Slowly becoming a worker, though apparently my hammer sucks, so tool shopping is in my future. I remember my favourite tool shop name from when I first moved to Vancouver in the early nineties. "House of Tools." I always imagined that the name described the staff, though I never actually went in to find out. "I went to buy a hammer and the guy behind the counter was a total dick!"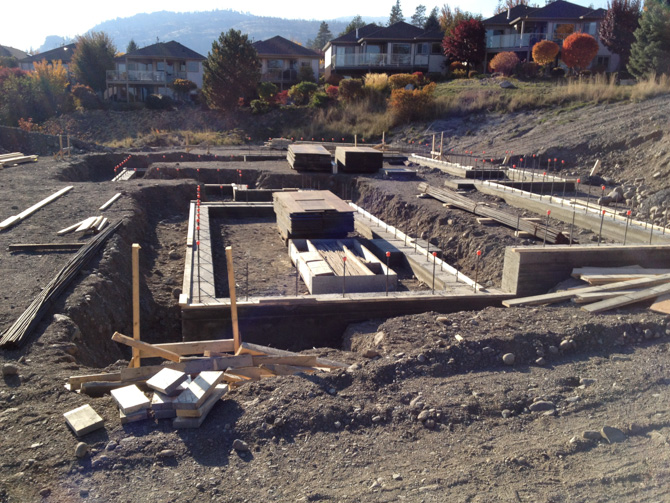 Footings stripped of their forms. Hot.