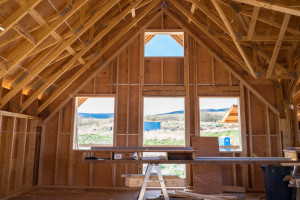 So not fully finished sheeting, and still with braces in the next shots.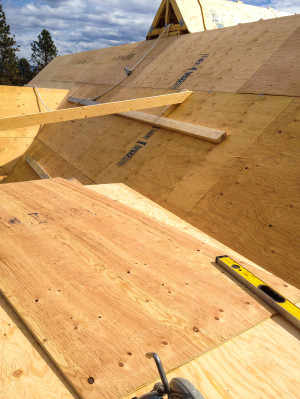 Missed the day yesterday. Dean & Joel accomplished a lot without me. Maybe they even accomplished more than if I was actually there.
Seemed appropriate to quote Clay Davis (a la The Wire). We're seriously into sheeting the roof. Pretty wobbly cutting plywood at the top of this scaffold. Getting pretty good at it though. Art shot! With face. Sagebrush view. Thinking of potential house colours in that come from sage. The view from Brown Rd.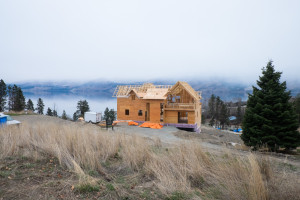 Getting good at cutting weird shaped sheets of plywood with a circular saw. Learning the importance of a chalk line at the same time. Wish I tried harder (or at all) at high school math.
Sheeting the roof has begun. We are starting on the 18 degree pitch of course. That will be our leaping off point. We'll haul the plywood up to the platform (surrounded by a guardrail fortunately). Good times ahead. The 45 degree stuff should prove nice and terrifying. Harnesses are in our future.