Not the most interesting title. I got nothing today. Sans pithy statements for a change. Just some initial views of the interior framing on the top floor.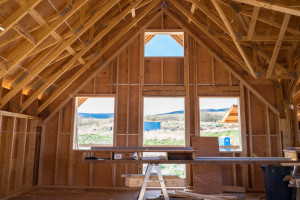 So not fully finished sheeting, and still with braces in the next shots.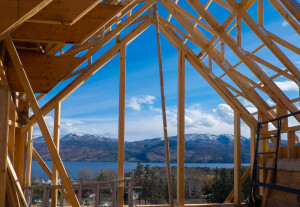 The house doesn't look massively different, but it was a nice day. And I took photos of my framing handiwork. Yes, my handiwork. Not just a handsome joe-job kinda guy anymore.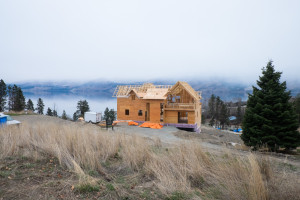 Getting good at cutting weird shaped sheets of plywood with a circular saw. Learning the importance of a chalk line at the same time. Wish I tried harder (or at all) at high school math.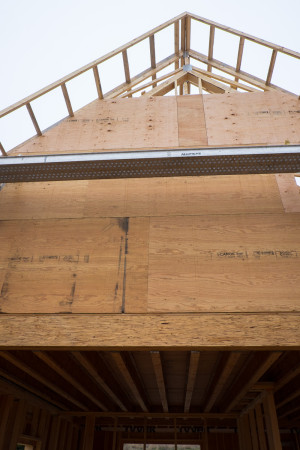 So, things don't look any different really. But, lots of framing happening with the roof trusses, adding lookouts (overhangs) and framing dormers.
By
Blarry
on February 26, 2014
A poor referral to James Bond's ancestral home. These titles are getting harder. Probably the lamest attempt so far. This is our deck off the master bedroom. Great view of the decrepit trailer. And a great view of the burn pile. Guess I better hang around when the burn happens. Wouldn't want to start […]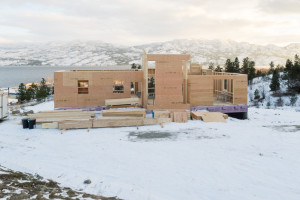 Below are 25 photos of where we are now in The Build. Why so many? Why strain the patience of my friends & family? Because I used my camera (Panasonic DMC-LX7 – few years old but pretty good point & shoot) rather than my phone. They look way better with a Leica lens, and can […]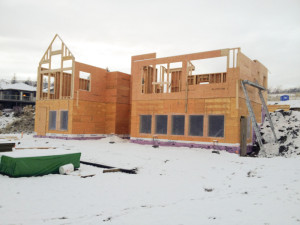 Missed adding photos last week. Very sad news. My brother in law, Bill passed away last week. He was the biggest fan of this site, and wanted badly to see our house's progress while in the hospital. I wish he could be around to see the house in it's finished state. I was able to […]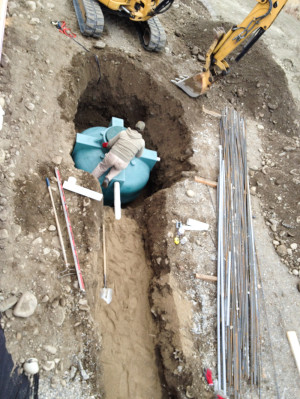 We had to leave town for a few days. Here are a lot of updates in a gallery. Framing at a fast and furious pace.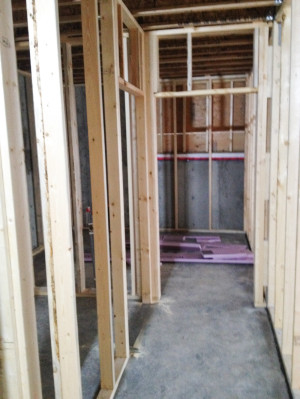 Northeast corner of the basement. Mechanical room at the back, storage room and bathroom all framed in. Roanne's studio. Framed it with notched 2×4's to keep the room as wide as possible. I got to notch these out on the table saw and chop saw. On my way to becoming a craftsman. It was nice […]