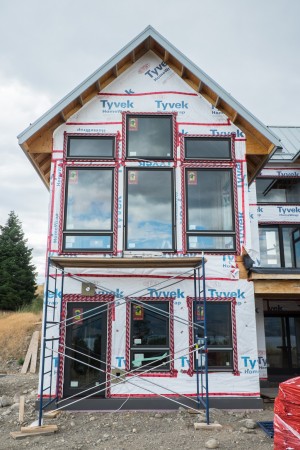 The view from up high. Installing the last window. I get to be the guy on the roof. Crotch shot. Everybody loves a crotch shot. Finally got the last big window for the living room in. A big hole is now filled. Yup, that's a view. Hot looking tub action. It's […]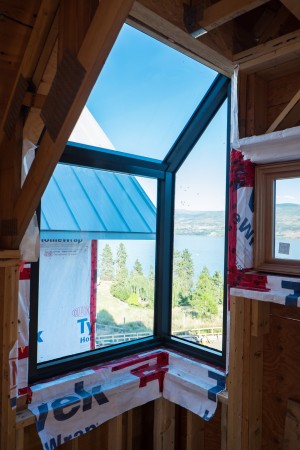 Well, sorry for the big gap in postings. I had been pretty good, but the last month has conspired to prevent me from updating. Had a wedding in Ottawa, then dealing with getting ready to move out of our rental. We are fleeing our crazy bitch landlord and are moving in with Rosanne's sister & husband. But, enough about me.
Apparently grey can make me happy. Happier than Theon Greyjoy, but then that's not hard. The roof coverage is just flying along.
Remember Anvil? That crappy Toronto metal band who were so eclipsed by many (all) of their peers that somebody made a very good documentary about them and how fame passed them by. Well, that has nothing to do with building our house. It's just a silly reference to ductwork underneath a metal roof, not their most well known album.
Because we are literally buying this stairway.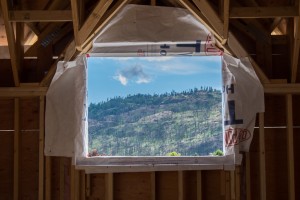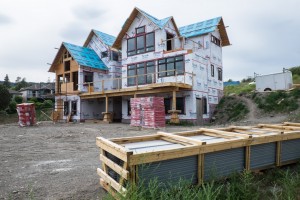 First off, we have the completed stairwell windows. Pretty great. It's going to look great with the bookshelves.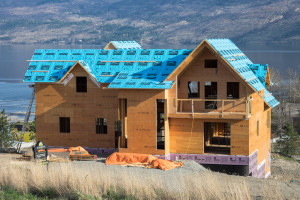 Talk about timing. The roofers came on Monday to put the waterproof membrane on the plywood roof. Tuesday it starts to rain. And Wednesday. And Thursday.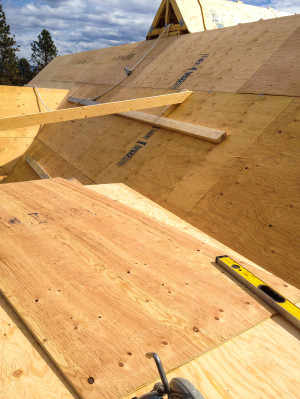 Missed the day yesterday. Dean & Joel accomplished a lot without me. Maybe they even accomplished more than if I was actually there.
Seemed appropriate to quote Clay Davis (a la The Wire). We're seriously into sheeting the roof. Pretty wobbly cutting plywood at the top of this scaffold. Getting pretty good at it though. Art shot! With face. Sagebrush view. Thinking of potential house colours in that come from sage. The view from Brown Rd.